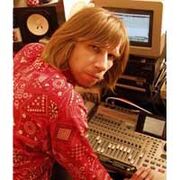 Paul Indrek Kostabi (born 1 October 1962 in Whittier, California) is an American artist, musician, music producer and audio engineer. He is the brother of artist Mark Kostabi.
Kostabi was a founding member of the bands White Zombie, Youth Gone Mad and Psychotica.
Paul Kostabi paintings are present in Permanent Collections of:
Paterson Museum, New Jersey
Guggenheim Museum, New York
New England Museum of Art, Brooklyn, Connecticut
Millennium Museum
Whitney Museum of Art, Video, Paper Tiger Sessions
Museion Museum, Bozen, Italy
Ad blocker interference detected!
Wikia is a free-to-use site that makes money from advertising. We have a modified experience for viewers using ad blockers

Wikia is not accessible if you've made further modifications. Remove the custom ad blocker rule(s) and the page will load as expected.