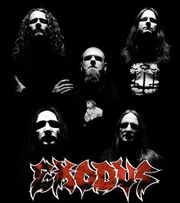 Exodus is an American thrash metal band formed in 1980 in Richmond, California. Spanning a career of over 30 years, Exodus has gone through numerous lineup changes, two extended hiatuses, and the deaths of two former band members. Guitarist Gary Holt remains the only constant member of the band, appearing on all their releases. Drummer Tom Hunting is one of the founding members, and departed from the band twice but has since returned to the lineup.
With nine studio albums, two live albums and two compilations, Exodus has released a total of thirteen albums since their debut album Bonded by Blood in 1985. The band had particular success in the late 1980s. Their first three albums Bonded by Blood, Pleasures of the Flesh and Fabulous Disaster, cemented Exodus' reputation as one of the most successful thrash metal bands. The critical praise given to Fabulous Disaster garnered attention from major labels, including Capitol Records, with whom Exodus would eventually sign in 1990. Exodus released two more albums, Impact Is Imminent and Force of Habit, before disbanding in 1993. After a temporary return in 1997-1998, Exodus reformed for a second time in 2001, and since then they have released five more albums, the most recent being 2010's Exhibit B: The Human Condition.
Ad blocker interference detected!
Wikia is a free-to-use site that makes money from advertising. We have a modified experience for viewers using ad blockers

Wikia is not accessible if you've made further modifications. Remove the custom ad blocker rule(s) and the page will load as expected.