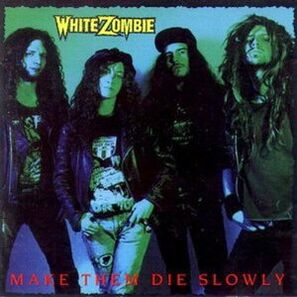 Make Them Die Slowly is the second album by White Zombie released in 1989. It is presumably named after the 1981 cannibal movie Cannibal Ferox, which was originally released in the US as Make Them Die Slowly. There is a printing error on the CD's side saying "Let Them Die Slowly" instead of the album's proper title.
Ad blocker interference detected!
Wikia is a free-to-use site that makes money from advertising. We have a modified experience for viewers using ad blockers

Wikia is not accessible if you've made further modifications. Remove the custom ad blocker rule(s) and the page will load as expected.