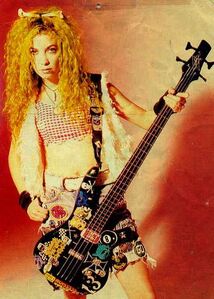 Sean Yseult (born June 6, 1966 in North Carolina as Shauna Reynolds) is an American rock musician. She has played various instruments with different bands over the years, most notably her bass work with the band White Zombie. Her father, Michael S. Reynolds, was a noted biographer of Ernest Hemingway. She married Supagroup musician Chris Lee on January 12, 2008, in New Orleans, Louisiana, where she lives. She owns and runs a dive bar popular among artists and musicians, The Saint, in that city's Garden District.
Ad blocker interference detected!
Wikia is a free-to-use site that makes money from advertising. We have a modified experience for viewers using ad blockers

Wikia is not accessible if you've made further modifications. Remove the custom ad blocker rule(s) and the page will load as expected.