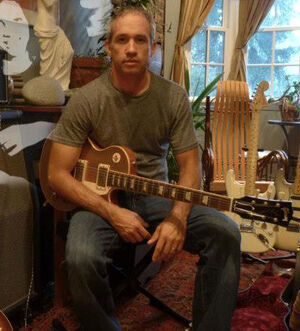 Tim Jeffs (born Timothy James Jeffs September 22, 1965) is an artist, musician, and art director. He was born in Rockville, Maryland. He currently lives in Dumont, New Jersey with his wife Jane Jeffs, daughter Jenna and, son Harrison.
He is a former guitarist and member of the band White Zombie, and appears on the second EP Pig Heaven and also on the five disk box-set Let Sleeping Corpses Lie. Other members of the band along with Tim were Rob Zombie, Sean Yseult, and Ivan de Prume. He was college roommates with Rob Cummings aka Rob Zombie at Parson School of Design in New York City during the 1980's. He also holds the position of being the first guitarist to play live with the band, appearing in White Zombie's debut show at CBGB's in New York City on April 28th, 1986. Other songs he recorded with White Zombie were: "Slaughter the Grey", which was the B-side of the Pig Heaven EP, "Follow Wild", "Rain Insane", "Paradise Fireball", and "Red River Flow" which are all unreleased White Zombie songs.
Ad blocker interference detected!
Wikia is a free-to-use site that makes money from advertising. We have a modified experience for viewers using ad blockers

Wikia is not accessible if you've made further modifications. Remove the custom ad blocker rule(s) and the page will load as expected.